Americans weren't too far into lockdown before "Zoom-bombing" became a thing.
Some of the videoconferencing attacks were indecent, with hackers disrupting meetings and — in one case — interrupting a public concert Chipotle hosted with musician Lauv with graphic pornography.
As if things don't feel unstable and anxious enough already.
Some disruption isn't so crude. Ian Wheeler, founder of Partisan Records and Talkhouse, said music fans are managing to disrupt streaming performances.
It's a different kind of disruption than talking too loudly at the bar venue or hoisting a cellphone to capture part of the set.
"When you're watching a livestream concert, people can get pretty dumb in the comments. That's nothing new. This is the internet we're talking about. But with lots of bands and venues streaming shows in place of live music, it doesn't take long for someone to try to start something in the comments," Wheeler said. "There are some things we're seeing across the internet: Zoom-bombing, trolls posting nasty comments, the works. Predictable. Sad, but predictable.
Wheeler said music buffs should be ready to go for a little while without being able to get that wristband and plunge into the crowd.
"There's not going to be concerts for a while," Wheeler said. "Those will be the last things to come back. Virtual concerts have existed pre-coronavirus. As far as trying to simulate that connection for fans, there's a steep learning curve."
Record labels and musicians started streaming performances from bedrooms, dining rooms and studios soon after COVID-19 shuttered businesses, bars and performance halls. Wheeler said labels and some bigger venues hustled quickly to "stage" streamed shows, complete with ticket sales.
"There's a lot of music happening for free," Wheeler said. "In some cases, tickets are being sold — just in about all instances, it's a lower ticket price than you pay to see someone live."
Indie musicians are finding ways to make money from their streams, inviting viewers to follow their Patreon accounts, a large online platform that allows musicians, podcasters, YouTube creators and artists to sell subscriptions to fans. For instance, pay $5 a month and get music and bonus content, or pay $20 and get anything from books, T-shirts and albums.
Wheeler said other musicians post their social media accounts for new followers, and post their Venmo accounts so fans can pay tips through a secure platform. He said fans who want their money to count should give directly to the artist.
"That circumvents record labels," Wheeler said. "It's money going directly into the artist's pocket. Comment at them on Instagram and ask how you can help. If you want to help, you can send some money their way. Even some of the bigger artists are trying to figure out how to pay their crew. Most artists make their money off their touring income. This is a hard time."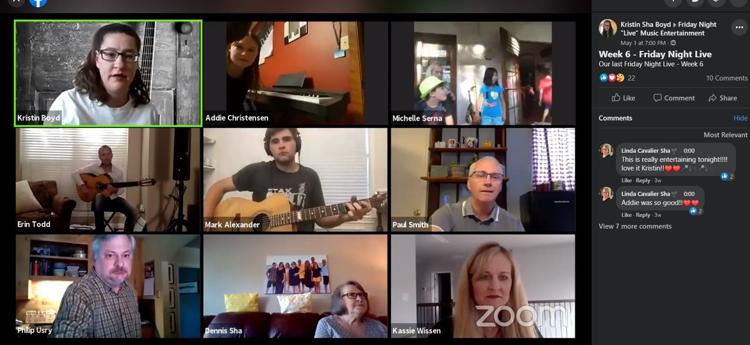 Wheeler suggested some tips for supporting your favorite artists online — or discovering new ones.
Just log in. "Just being there — even if you're cooking dinner and listening — is important. If we want to see these things continue, we have to click the link and be there," Wheeler said.
Be nice. Just basic manners will help performers share their music. If you comment or chat in the comments, keep things appropriate. Think positive. "Not putting negativity in the comments section is a big deal. You know it's funny, it's reflective of internet culture overall. In person we wouldn't say half the things we're comfortable saying online. It's important to keep things positive. You're there as a fan — leaving negativity in the comments isn't helpful," Wheeler said. "In the same way you wouldn't boo the band you're there to see, don't be an ass in the comments. It's just not a great time for it."
Stay online. Organizers, indie artists and industry workers setting up livestreams are watching the metrics. "It does matter how many people watch, but it's not everything," Wheeler said. "To have 50,000 viewers instead of 150,000 viewers is a big drop, but the level of engagement matters, too." Users can show their engagement by using features to respond. Some Zoom meetings have buttons to "like" a video — that's the trusty thumbs-up — or buttons for applause or love. "I'm a fan, and if there are hearts flying across the screen [like they do on Facebook Live], that's more of a distraction for me. The services could do a better job of managing that engagement. I wonder if the tech companies are rethinking design."
Wheeler has some advice for musicians who are streaming their own shows, too.
"I think you know one of the most important things to ask is: Does it sound good?" he said. "That's what you're doing, after all. Run some tests. Take some time before you get rolling. Don't wait to go live before you check the sound."
Networking is important for musicians and promoters, too.
"I've always been of the mind that arts, music, culture is always stronger when its coming from the community," he said. "It's a good time to really fortify the arts community. It's time to start that Slack group — local musicians getting together every week, trying to pull everyone together. Whoever does that, then after all this, when we go back to going out and going to see shows, they'll be the leaders of the scene. Those are the people who will be there."
LUCINDA BREEDING can be reached at 940-566-6877 and via Twitter at @LBreedingDRC.
— to dentonrc.com